Julbord på Slottsskogsobservatoriet
---
Nu är anmälan till CAC's julbord öppen! Som vanligt ordnar vi det uppskattade julbordet på Slottsskogsobservatoriet. Vid klart väder tittar vi på stjärnor i deras teleskop och dessutom har vi bjudit in Susanne Aalto från Onsala rymdobservatorium till att hålla en föreläsning för oss (ämne och titel är ännu inte bestämt).
Datum: Lördagen den 9:e december (anmälan senast söndagen den 3:e december)
Plats och tid: Samling vid Chalmers huvudentré kl 18:00 eller om du åker direkt dit så gäller 18:30 vid Slottsskogsobservatoriet.
Pris: 60 kr, + eventuellt 40 kr för medlemskap, per person. Vi tar kontanter eller Swish.
Övrig info: Glögg, julmust och annan läsk serveras. Du kan också själv ta med dryck, men tänk på att ansvarsfullt drickande gäller på observatoriet. Vegetarisk mat finns om några vegetarianer anmält sig.
Program (alla tider är ungefärliga):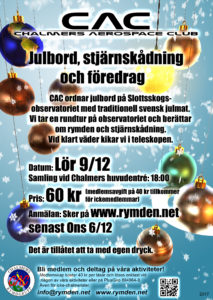 18:30 Mottagning med välkomst-glögg och pepparkakor
19:30 Föreläsning av Susanne Aalto eller eventuellt stjärnskådning
20:30 Julbord
22:00 Eventuellt stjärnskådning eller föreläsning
När styrelsen är för trött: Hemgång
Du kan anmäla dig och ditt sällskap senast 3/12 (datumet på affischen är tyvärr inkorrekt) genom att skicka ett mail till
julbord@rymden.net
Ange
– namn på alla i sällskapet
– om du/ni åker till observatoriet direkt eller är med vid Chalmers huvudentré kl 18:00
– eventuella allergier
– hur många av er som är vegetarianer om några
– hur många av er som är medlemmar om några
Frågor till den mailadressen kommer inte att besvaras, utan skicka dem istället till info@rymden.net
 Christmas dinner at Slottsskogen observatory
---
Now registration to CAC's Christmas dinner is open! As usual we arrage the much appreciated Christmas dinner at Slottsskogen observatory. If the sky is clear, we look at stars in their telescopes and we have also invited Susanne Aalto at Onsala Space Observatory to hold a lecture for us (topic and title are not yet decided).
Date: Saturday the 9:th of December (registration at latest Sunday the 3:rd of December)
Place and time: Meetup at Chalmers head entrance at 18:00 or if you go directly there 18:30 at Slottsskogen observatory.
Price: 60 kr, + eventual membership fee of 40 kr, per person. We take cash or Swish.
Other info: Gluehwein, julmust and other soda is served. You can also bring you own drinks, but consider that responsible drinking is a rule at the observatory. Vegetarian food is provided if any vegetarians registers.
Schedule (all times are approximal):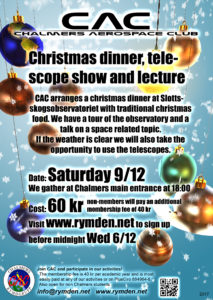 18:30 Receiving with welcome Gluehwein and gingerbread cookies
19:30 Lecture with Susanne Aalto or eventual stargazing
20:30 Christmas dinner
22:00 Eventual stargazing or lecture
When the board is too tired: We go home
You can register you and your friends at latest 3/12 (unfortunately the date at the poster is incorrect) by sending a mail to
julbord@rymden.net
State
– name of everybody you register
– if you go directly to the observatory or if you meetup at Chalmers head entrance at 18:00
– eventual allergies
– how many of you are vegetaians if any
– how many of you are members if any
Questions to that mail adress will not be answered. Instead send them to info@rymden.net