The Dirac way: Using symmetries to predict new physics
---

 Lars Brink, professor i strängfysik och medlem i kungliga vetenskapsakademien berättar om Dirac-ekvationens symmetrier.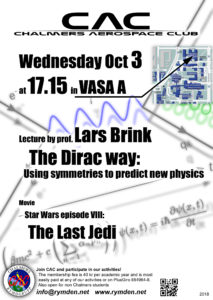 Datum och tid: Onsdagen den 3:e oktober
Plats: Vasa A. (Klicka på kartan för vägvisning) 


 Lars Brink, Professor of String Physics and a member of the Royal Academy of Sciences, talks about the symmetries of the Dirac equation.
Date and time: Wednesday 3 October
Location: Vasa A. (Click on map for directions)