Hunting flashes in the sky: On the discovery and current understanding of Fast Radio Bursts
---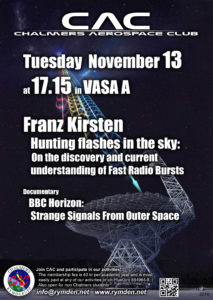 Franz Kirsten, postdoc på Chalmers, berättar allt om det mystiska fenomenet Fast Radio Bursts. Radio-pulser med hög energi från platser långt utanför Vintergatan. Deras natur är okänd och de är svåra att upptäcka eftersom de oftast bara syns en gång.
Datum och tid: 13 november kl 17:15
Plats: Vasa A. (Klicka på kartan för vägvisning) 

Dokumentär: BBC Horizon: Strange Signals From Outer Space

 Franz Kirsten, postdoc at Chalmers tells you everything about the mystical phenomenon called Fast Radio Bursts. High energy radio pulses from far outside the Milky Way galaxy. Their nature are unknown and they are hard to detect as they most often only appears only once.
Date and time: 13 November at 17:15
Location: Vasa A. (Click on map for directions) 

Dokumentary: BBC Horizon: Strange Signals From Outer Space