Julbord med CAC fredagen den 13:e december!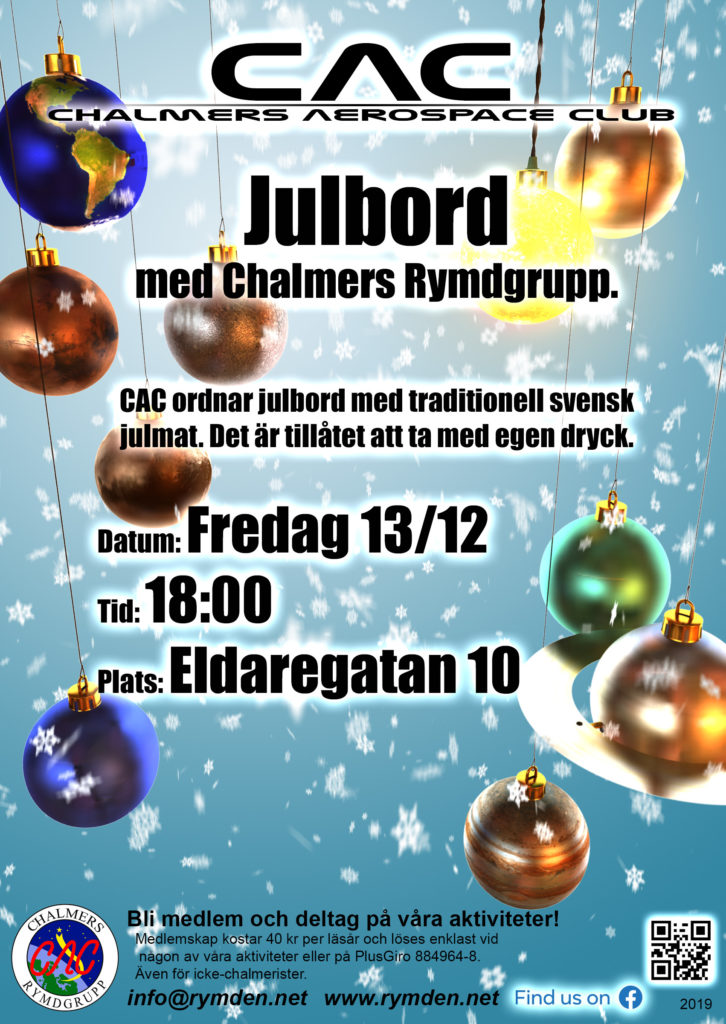 Välkommen på CAC's årliga julbord på Slottsskogsobservatoriet! Hade vi gärna velat säga, men tyvärr är observatoriet ännu nedstängt, så vi kommer ha julbordet i en lokal i närheten. Men vi lovar samma goda julmat och trevliga människor med gott humör! Vänta inte för länge med att anmäla dig eftersom antal platser är begränsat.

Adressen är Eldaregatan 10 C i Masthugget och karta och gatuvy syns nedan. Från t ex Brunnsparken, tag tag buss 60 till hållplats Masthugget (ändhållplats). Fortsätt att gå på gatan i den riktning bussen hade när du steg av vid ändhållplatsen. Tredje avtagsvägen på vänster sida är Eldaregatan, som du svänger in på. Fortsätt denna fram till port 10 (på höger sida). Gå in genom porten och snett övre gården. Där ligger Eldaregatan 10 C. Lokalen ligger en trappa ner. Eller så möter du upp med andra deltagare vid den gemensamma samlingsplatsen, Chalmers huvudentré, senast 17:00. Åker du bil kan du förslagsvis parkera vid Linnéplatsen eller Vegagatan och promenera dit via Slottsskogen.
Datum & tid: 13/12 kl 18:00
Pris: 80 kr (+ ev. medlemsavgift, 40 kr)
Adress: Eldaregatan 10 C
Övrigt: Vi bjuder på julmust och vatten, men det är också tillåtet att ta med egen dryck.
Anmälan sker genom att maila till julbord@rymden.net senast måndag 9/12. Ange namn, om du är medlem, allergier och andra matpreferenser, samt om du är med på samlingen vid Chalmers.
Anmäler du flera ska dessa uppgifter anges för varje person.

Welcome to CAC's annual Christmas dinner at Slottsskogen Observatory! We would have liked to say, but unfortunately the observatory is still closed, so we will have the Christmas dinner in a location nearby. But we promise the same good Christmas food and nice, jolly people! Do not wait too long to sign up as the number of seats are limited.

The address is Eldaregatan 10 C in Masthugget and the map and street view can be seen below.

From, for instance, Brunnsparken, take bus 60 to Masthugget (end stop). Keep walking the direction the bus had when you got off at the stop. The third exit on the left is Eldaregatan. Continue on that street until port 10 (on the right side). Enter through the gate and obliquely the upper courtyard. There is Eldaregatan 10 C. The place is downstairs.

Or you can meet up with other participants at the meetup location, Chalmers main entrance, by 5 pm.

If go by car, you can park at Linnéplatsen or Vegagatan and walk there through Slottsskogen.
Date & Time: December 13 at 6:00 PM
Price: 80 kr (+ membership fee, 40 kr)
Address: Eldaregatan 10 C
Other info: We offer julmust and water, but you are also allowed to bring your own drink.
Signup is done by emailing julbord@rymden.net no later than Monday 9/12. Enter name, if you are a member, allergies and other food preferences, and if you will be at the meetup at Chalmers.
If you sign up other people, this information must be provided for each person.